7 Easy Side Hustles To Work From Home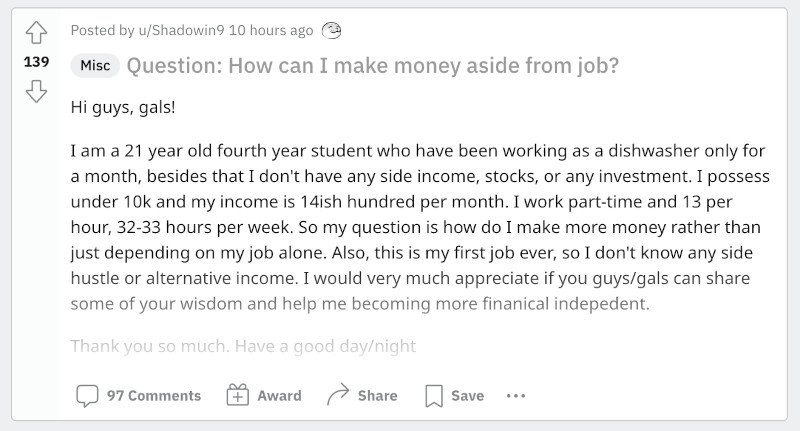 When I'm browsing through Facebook or Reddit, I probably see questions like this one get posted all the time. That is how do you make money with a side hustle?
I don't blame people for not knowing the answers to this but there is a massive world of freelancing work out there. Since the world is already transitioning from a work-from-home model then it only makes sense to look at side hustles you can also do at home. Or do this work anywhere in the world. You just need a computer and internet connection.
I mean Upwork.com, possibly the largest freelancing website around, pulled in $374 million USD in revenue in 2020. That is their revenue where if you assume they take an average of 10% fee for their users, that is $3.74 billion in money exchanging hands, well virtually at least.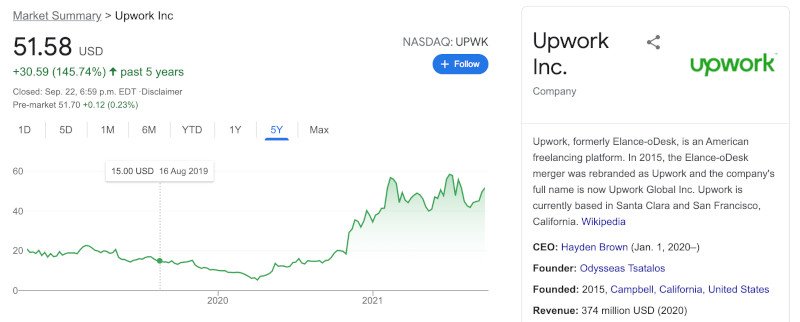 So many people out there didn't know this was a thing. These numbers are rising globally every year. There were 59 million people in the US doing freelancing work in 2020 and that number is expected to rise by end of 2021 and beyond.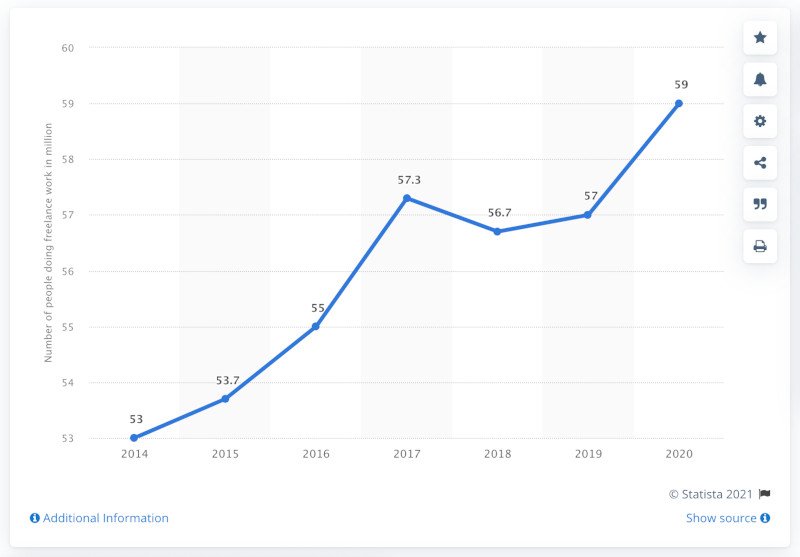 Ok so now you know it is a thing and is very real. Freelancing is one of many side hustles you can do but I'm going to just break things down into 7 side hustles for you to consider.
The truth is you can probably find thousands more ideas for sidehustles so the decision on what to do is all up to you.
Here's my top 7 Side Hustle list
Writing
SEO Link Building
Creating Websites
DeFi: Cryptocurrency Mining, Staking & Lending
Investing
Online Gambling Affiliation
Video Editing
Ok this looks like a weird random list of items and I listed these for various reasons. Some are very easy, some are harder, either way there might be one thing that interests you.
If you truly want more ideas, check out this rabbit hole right here > https://www.reddit.com/r/sidehustle/
So let's get started
Copywriting Sidehustle
Writing is a somewhat easy sidehustle that is possibly one of the most popular out there. People in this space usually charge on a per word basis but some people pay flat rates for content. Obviously it helps if you have the right writing skills so writing might be for you if you can check these items off;
Can type very fast
Good spelling, grammar and punctuation
Writing style
So can you type without looking at your keyboard? If you can type say 50 words per minute or faster then writing might be a good side gig for you. If you don't have a good writing style or have a lot of mistakes in your writing, you'll struggle to find work.
You can look for gigs on Upwork.com and Fiverr.com as 2 of the biggest freelancing marketplaces in the world for this type of freelancing work.
How much could you earn: $20 per 500 words or $0.04 per word.
SEO & Link Building
This is the group you need to join if you want to learn how to become a link builder. Building links for people is very very lucrative. Links help websites get more traffic and can help sites rank better in Google. So you can see why people would pay good money for this sort of thing.
Just join The Super Cool Dan Ray White Hat SEO and Link Building Group, out of breath after typing that one out. Join and thank me later.
How much could you earn: $2000 per month or way more
Website Design and Development
It doesn't matter how you create them but let's assume we are sticking with WordPress. There are so many businesses that thrive off of making simple WordPress websites for others. When a business needs a website, they don't know how to do it themselves even though WordPress is very easy.
If this interests you and you don't have the experience, start by making your first website for your business.
You could really build 1 website per day so if you had 1 client per day, that is 30 clients in a month and multiply that by what you charge.
Pro tip: contact other companies that offer the same service in your area to see what they charge.
How much could you earn: $500 per website
DeFi: CryptoCurrency Mining, Staking & Lending
This topic is best suited for people that either have a strong interest in cryptocurrency or have a solid tech or programming background. This stuff is hard to learn and you'll want to understand how the tech works first.
I'm just going to share this link right here:
https://www.reddit.com/r/defi/
How much could you earn: The sky is the limit but keep in mind you can lose money playing with cryptocurrencies. You probably won't be buying lambos doing writing at least.
Investing
Well you need money to make money so this is an off the beaten path for some people. For those that have some extra income to invest, this could make you some passive income.
It almost goes without saying, if you are needing a side hustle, you are probably looking for extra money rather than already having it. You could do any side hustle to fund your investing portfolio.
You could easily stack skills here where if you love investing, you could turn this into a writing opportunity where you get paid to write for other websites as an author.
One more point to share when it comes to investing. People think they need to have thousands of dollars in the bank in disposable income to start. You can start for as low as $50 by opening an investing account. For every bit of money you invest, you are essentially putting away for savings with the hope it grows in time. Most investors only regret not starting and learning earlier.
How much could you earn: Could easily make hundreds per month but just like the cryptocurrency space, investing comes with risk and you could lose money. For some people investing is like gambling so avoid this space if you are impulsive.
Online Gambling Affiliation
Now this is a really big industry that is growing almost by the day. The online gambling industry is approaching a $100 billion per year as a whole. Affiliate marketers are driving a lot of this business. Just Google "online casinos" and you'll find some high ranking websites.
CPA vs Revenue Share
The most common payment model for referring players to online casinos is by revenue share. That is if you have a 30% revenue share deal with an affiliate program like SlotsMillion Affiliates then you could be getting $3000 per month for a single player losing $10,000 per month at the casino.
Other programs will pay out CPA which stands for Cost Per Acquisition and is a one time payment for referring a depositing player. These CPA amounts can be as juicy as $200 per referred player and depends on the program and target markets.
The toughest part is you have to create a website and learn about SEO and how you can market the site. This project is not easy and is kinda recommended you do this with some skilled partners.
How much could you earn: $5000 per month and quite possible to exceed $50,000 per month. Some of the top earning affiliates do $1M/month in revenue.
Video Editing
I just went from exciting propositions to another repetitive task no different than writing. Video editing might not be as sexy as cryptocurrencies or online gambling affiliation, but video is where it is at.
People are consuming more content in video and audio. It isn't that writing is going out of business but people are changing up how they learn about things.
How much could you earn: $50/hour and up. Video editing is in high demand and is a skillset that most people value when they need something done.
Best Side Hustle Tips For Making Money
Here are my take-away tips when it comes to doing any side hustle whether it is freelancing work, investing or working for yourself.
Pick a topic that you enjoy where it won't feel like work
Allocate some time where you can stay focused on your side hustle
Document the process in a blog or journal
Network with others in your space and join some communities
My take-away points are that these side-hustles are items you can pad your resume with. You'll learn some new skills along the way. In most cases don't expect instant income to come in as it takes time to build this new revenue stream up. Once you have it going then you can decide whether you want to continue, stop it, or maybe even spend more time into it. If you are lucky enough you might end up with a new career change.
Remember you only need a laptop and internet connection to do any of these 7 side hustles. If you get lucky enough you'll possibly give yourself the luxury to be able to travel and do these things.